Fustecma begins preparations for Cersaie 2019
Compañías referentes de la industria azulejera confían en la firma para el diseño y el montaje de sus stands para ferias. La empresa acredita una sólida trayectoria en la mejora de tiendas para marcas como Roberto Verino o QuickSilver
Fustecma encara unos meses de máxima actividad. La firma de la Vilavella, especialista en el diseño de interiores y reformas integrales en Castellón de locales comerciales y viviendas, acredita también una pujante trayectoria como partner de marcas punteras de la industria azulejera.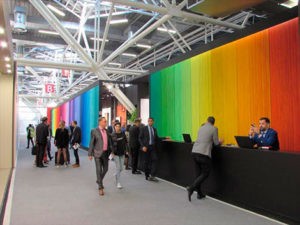 Los fabricantes cerámicos confían en el equipo de diseño de Fustecma para proyectar e instalar showrooms de producto en sus instalaciones, stands en las principales ferias del sector y asesoramiento en campos como el marketing. A ello se suma la experiencia de la empresa a la hora de crear expositores y display para una mejor presentación de las colecciones.
In this context, all Fustecma departments already work for the next Cersaie showcase, the great global showcase of tile industry to be held in Bologna (Italy), between September 23rd and 27th. In this event, the most important in the area, major brands as APE Group, Grespania, Durstone, Colorker or Verníshan have placed their trust in the know-how of the team headed by José Matas, brand manager, to project the best commercial image in the international contest through original stands.
En este evento, el más importante del sector, grandes marcas como APE Grupo, Grespania, Durstone Colorker o Verníshan depositado su confianza en el know how del equipo que encabeza José Matas, gerente de la firma, para proyectar a través de originales stands la mejor imagen comercial en el certamen internacional.
From the company they emphasize that «we accredit a wide experience in ephemeral architecture with exclusive designs always innovating and adapting to the latest trends».«In Fustecma we are at the forefront in manufacturing and assembly and we make sure to create original and functional stands, as can be seen in our portfolio in the last decade at events such as Cevisama and Cersaie», says José Matas.
Source: Fustecma